Paying Your Telephone Bill
Telephone Bill
If you are not paying by automatic bank transfer, please pay by the due date at a bank, credit bank, credit union, cooperative bank of commerce and industry, cooperative bank of agriculture and forestry, labor credit association, agricultural cooperative association, post office, NTT East service counter, or convenience store displaying an NTT telephone bill counter sign.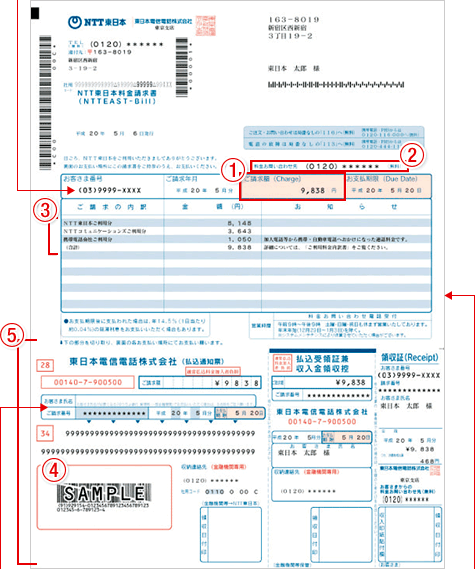 Detailed Breakdown
If you are paying for Analog telephone service for residential-use with a touch-tone line in a Class 3 Service Area, the Detailed Breakdown will be as follows: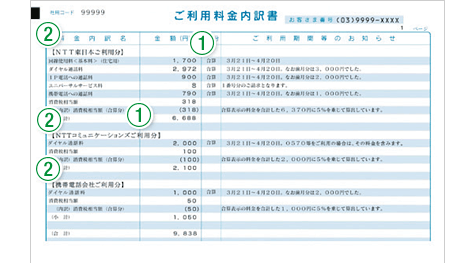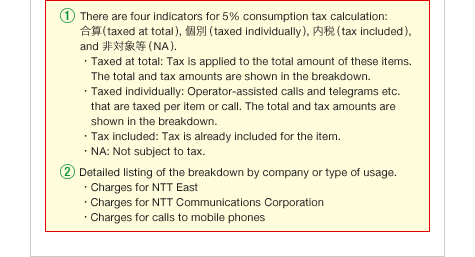 If payment is not received
NTT East may disconnect your telephone line or terminate your contract if payment is not received. However, failure to pay DIAL Q2 information charges will not result in the disconnection of your telephone line or termination of your subscription.
NTT East may charge 14.5% p.a. interest (approximately 0.04% per day) as a penalty for payment made after the due date, based on terms and conditions of subscription.