Paying Your Telephone Bill
@Billing
If you are paying by automatic bank transfer, @Billing can notify you of transfer amounts etc. via the website instead of by post. By signing up for this service, you can confirm when transfers are made and check dialing and other charges up to the previous day using a PC or DOCOMO mobile phone connected to the Internet for no additional monthly charge or installation charge. You can also receive a ¥110 discount* off the tax-excluding amount of basic monthly charges by using @Billing.
*

The discount does not apply to residential-use rotary-dial lines in Class 1 Service Areas.
Viewing information by PC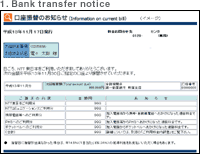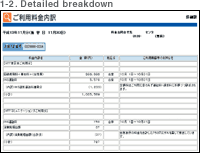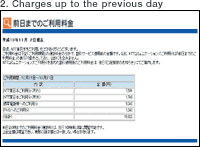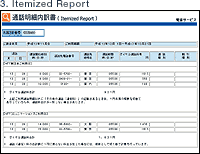 Viewing information by mobile phone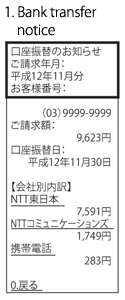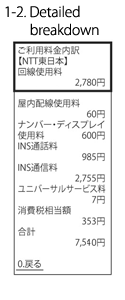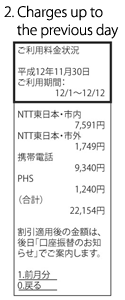 See the NTT East Website @Billing for service details (in Japanese only).
@Billing inquiries and applications can be made by calling the billing inquiries telephone number shown on the bank transfer notice, by dialing 0120-116-000 (toll free).
Itemized Report and detailed breakdown cannot be viewed on mobile phones. A simplified version of the detailed breakdown can be viewed.
An application in writing is necessary to view the Itemized Report. However, there is no need to apply if you have already applied to receive the Itemized Report by post along with your bank transfer notice and telephone receipt.