Voice Box
With Voice Box the subscriber can exchange voice messages with a group of people via the NTT East center. The group can record and listen to messages from one another by entering the PIN etc. set by the subscriber. This service can be accessed from ordinary fixed line telephones as well as mobile phones, PHSs, and public telephones.
Please note
Access is not available from communications devices that cannot send touch-tone signals.
Charges
Monthly charge
¥300
(same for both residential and business use)
Installation charge
none
Only one Voice Box is available per subscriber number for analog lines.
The monthly charge applies to the subscriber only.
Dialing Charges
Dialing charges apply when the subscriber and others of the group connect to the center to record and listen to messages.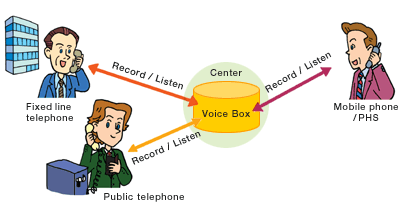 Price shown is not inclusive of tax.