Magic Box
If you receive a call you cannot answer because you are either on the phone or not at home, the call will be transferred to the NTT East center where the caller can leave a message. The center will inform you when there is a message. You can retrieve it from your phone, mobile phone, or PHS etc. by accessing the center. Calls can also be forwarded to a pre-registered number or answered in the same manner as Call Waiting service.
When you are not at home, you can use the remote control function from another phone (mobile, PHS, or public phone, etc.) to listen to your messages, activate or deactivate Call Forwarding, etc.
When a caller's number is identified, the number will be announced even if no message is left.
Charges
Monthly charge
Residential ¥800
Business ¥1,100
Installation charge
none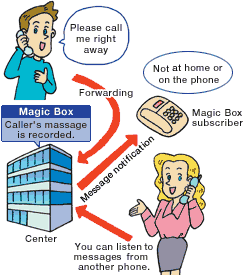 Magic Pack Discount
Discount Plan
Magic Box
Caller ID Display
Monthly Charge
Savings
Magic Pack
●
●
Residential
¥1,200 → ¥1,100
¥100
Business
¥2,300 → ¥2,000
¥300
Prices shown are not inclusive of tax.